10 Tips to Beautify Your Garden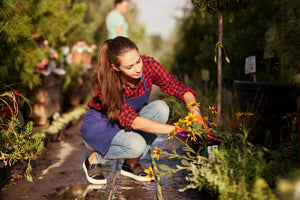 The butterflies are fluttering, the bees are buzzing, the sun is shining and your garden is growing! Isn't life beautiful? You can make it even more lovely by beautifying your garden with a few simple tips to get you started. 
1. Bird Feeders 
Free-standing or hung from a nearby tree, bird feeders are a great way to get some new friends singing in your garden. Bird feeders come in a variety of looks and styles. From all-natural exposed seeds that disappear once they are all eaten to decorative dishes with seed dispensers, bird feeders and the winged friends they attract will add more life to your garden. 
2. Butterfly Plants 
Similar to bird feeders, butterfly plants will attract winged friends to your garden. Mostly monarch butterflies, they absolutely love butterfly bushes and butterfly flowers! Some of the non-invasive flowers are Buddleja Buzz and Miss Molly. However, there are oodles of butterfly bushes to choose from. Discover which one is right for your climate and your preference to attract butterflies once they bloom.
3. Decorative Statues 
A contemplative cherub at the front entrance of your garden, a peaceful meditating buddha in the center or a cleverly placed frog lounging underneath a bushel of flowers will bring exciting surprises to your garden. While your garden may already be filled with the natural colors and shapes from vegetables, fruits and flower plants, decorative statues add a touch of personality to your beautiful garden.  
4. Jute Burlap Grow Bags 
As many gardeners know, grow bags are a great way to start many new plants. Some people even choose to keep their plants in grow bags to maintain their size and growth. They have breathability and easy drainage. They make it easy to separate plants by giving them their own little home to grow in until they want to transfer them to the earth's soil. However, many grow bags are unattractive, they may even take away from the visual beauty of your garden. Instead of hiding them behind other plants, choose grow bags that you want to be displayed as part of your garden's design. Jute burlap grow bags have a charmingly rustic style. They will add to your garden aesthetic, instead of taking away from it. 
5. Painted Wooden Flower Beds 
Whether we built them or bought them, many flower beds are plain, wooden rectangular boxes. They keep plants and flowers separated but they can be a little dull in their appearance. Before planting, choose to paint your wooden flower beds in colors that match your garden's design. Perhaps a rustic dark-red color to complement the greenery or a bright yellow color to brighten the garden even on days when the sun is hiding behind the clouds.  
6. Wind Chimes 
Wind chimes can be hung from trees or hung from free-standing poles throughout your garden. They make beautiful sounds whenever a gust of wind or a light breeze travels through. Garden wind chimes add the element of sound amongst the visual beauty and pleasant aromas. You can even add two different wind chimes of varying tones. Together, they create harmonious music like the wind was playing just for you. 
7. Fountains 
Water is such a divine accent to add to your garden. Fountains especially provide a tranquil and serene element to the scene. They create both movement and sound to the surrounding space. They are many different types of fountains. From swinging basket wishing wells to multiple cascading tiered fountains, there is a fountain for every garden design motif. 
8. Stepping Stones 
Pathways throughout the garden will provide more structure while enhancing the beauty of your garden. They help to keep your gardening shoes a tad cleaner especially when it rained the night before too! Whether they are hand-painted tiles, non-slip rubber pads, etched concrete or natural river stone clusters, stepping stones are practical and attractive. 
9. Garden Seats 
With all the hard work you put into your garden, it is always nice to sit down and enjoy it. Add a garden seat for you and your loved ones to appreciate the wonderful garden you've created. The varieties are endless. Whether it is wooden trellis, metal lattice, wrought iron and even rattan rope hammocks, there is a seat that will match your gardens style. 
10. Creative Plant Markers 
You may know what fruit, vegetable, flower, herb or plant you are looking at, because you are the one who planted it! However, we all have days when our heads may get a little foggy. In fact, some of us may be new to gardening! Having plant markers is helpful for identifying different plants but also they are an attractive decorative element as well. Hand-painted rocks, wooden signs, engraved ceramic, etched glass, there are many, many markers to beautify and identify your garden! 
While many gardens serve the purpose of providing you with home-grown herbs, fresh vegetables and ripe fruits, you can turn your garden into more than just a place for practical purposes. Give it the extra decorative details to add more style and enhance your gardens beauty! 
Featured Products: