All About Those Veggies!! Grow Our Exotic Vegetable Starter Kit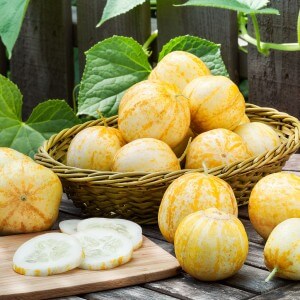 When it comes to veggie gardens, we all want to grow the typical red tomatoes, green beans, sweet corn, and bell peppers ( to name a few). While there most definitely isn't anything wrong with growing common vegetable varieties, isn't it healthy fun to changes things up once in a while and try or in this case, grow something new??
What Comes In This Kit?
Our Exotic Veggies Starter Kit has just what you need to get a head start on growing a great mix of not-so-common garden varieties! You'll get four certified organic AND non-GMO seed types with your kit, four burlap starter pots, four expandable soil disks, shears, four wooden markers, and an easy-to-follow instruction manual. 


Four Extraordinary Types of Vegetables!!
 

Romanesco Brocolli 

- This unearthly variety of Brocolli (also known as Romanesco cauliflower and Broccolo Romanesco ) is sure to catch your eye and make you wonder what sort of alien species has taken over your garden! Have your growing spaces been invaded? Did it originate from this planet? The head grows in a natural, factual pattern, making it appealing to eat for everyone, from the math nerd to the house's picky-eater! It has a light, nutty flavor that is a cross between regular Cauliflower and typical Broccoli taste. Some say it has a more intense flavor. 

Lemon Cucumber -

 This small, tennis ball-size variety is similar in shape and color to an actual lemon. It is a heavy producer and has a longer growing season than regular cucumbers, making it an excellent choice for your growing space! This easy-to-grow cucumber variety does not taste like its namesake. Due to it being low in cucurbitacin, the taste is less bitter and milder and sweeter than that of green cucumber. It is perfect for one or two-portion servings and growing in kid's gardens!

Rainbow Swiss Chard - 

This leafy veggie will put an array of colors in your garden! While this plant's leaves remained a bronzed green color with a wrinkled appearance, the stems can display many colors from white to yellows and gold, pinks, reds, and purples! It's a member of the beet family, but rather than putting its energy below ground to grow roots, its growing power goes into producing healthy greens! Rainbow chard isn't necessarily a variety of its own; it's a mix of different chard types, making it full of flavor and packed with nutrients! With such a combination going on, its taste ranges from tangy to mildly sweet. It has the best flavor, while the leaves are young and tender.

Purple Dragon Carrot - 

This particular variety of carrots is quite eye-catching! With a reddish-purple outside, the inside core is a contrasting yellow to orange making it quite the sight to see! When cut open! If thinned properly and grown in rich, loose soil, the tapered roots can grow 6-8" in length. If grown in heavy, compacted soil, they will be much smaller. Its flavor has the classic sweet, crisp carrot taste with a subtle spiciness that will delight your taste buds.


With all of our products, you'll get around-the-clock grower support with any of our seed and starter kits if you need it! You can find almost everything you need to know by searching our FAQ page, OR you can access our Grower bot! Our automated bot, Sprout, is available to help you out during after-hours and can answer basic growing questions. Our live support team can help with any questions via messenger, email, or Facebook during business hours.
You will also get a unique registration code, which allows you access to our private Garden Republic Grower Community on Facebook. This group is full of tips, tricks, videos, and encouragement to ensure a successful and stunning garden! You are also free to share your garden photos and ask questions that come up during the growing process! 
Convinced that you need these exotic veggies in your life? Click here to check it out on our website!