Ways To Celebrate National Salad Month-Recipes Included!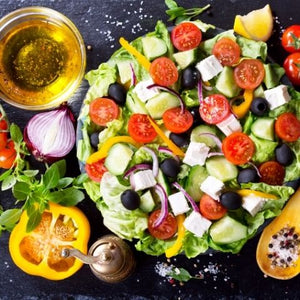 Did you know May is National Salad Month?? We didn't either until recently! Salads are a great way to get fresh, healthy vegetables and fruit in your diet in a tasty manner! Not to mention they are packed full of nutritious vitamins and minerals! Even if you don't grow your food, you can still add salads to your diet quite easily by purchasing at your local store or restaurant. 
We've put together a few fun things you and your family can do to celebrate national salad month! 
Eat A Salad!
This is the obvious choice when it comes to celebrating salad month! There are so many options to choose from, and you could probably eat a different kind of salad every day of the month, and don't forget about fruit salads! You can harvest your salad fresh from your garden, buy a salad kit, or pick up your desired ingredients from your local grocery store. 
This could also mean turning a "new leaf" and making sure you eat a salad a day, replace a meal a day with a salad, or picking a set day of the week to be salad day!
Grow Your Own Salad Garden!
This one is our favorite, of course! What a better way to ensure you aren't eating any greens grown with harmful chemicals and getting the freshest greens to put on your plate! You can start your salad garden from seed in your house, then move the sprouts to larger pots on your patio, or plant them in the ground if you have room. Our Salad Garden Seed Set has nine yummy varieties that are sure to please your taste buds and tummy! You can read all about it here. 
Salad Cook-Off
This is a fun and delicious experience to put on for family, friends, and even a fun and healthy community event, who can put together the tastiest salad! You can make it a little bit competitive by giving out prizes for the top 3 most scrumptious salads! 
Salad Crafts
You can get creative as your mind will let you with this one! Here are a couple of ideas; Have your kids draw and color in ( or print off online) paper vegetables, cut them out, the build a paper salad. You could also have them put together a salad vision board as an educational tool!
Another idea is to use actual salad vegetables to create art! Such as make a flower, an animal, or anything! 
Recipes: 
Here are a couple of recipes to get you started on yummy salad creations!
Mom's Taco Salad
This recipe was a childhood favorite of a Garden Republic team member and will be sure to be a big hit with you, too. 
Ingredients:
2 pounds Ground Beef 

1 packet of your favorite Taco Seasoning

1 head Iceberg Lettuce, chopped

6 San Marzano Tomatoes, diced

1 small Yellow Onion, diced

1 can sliced Black Olives

2 cups French Dressing

16-ounce bag of shredded Cheddar Cheese

Tortilla chips

Sour Cream and Cilantro to garnish
Directions:
Brown the Ground Beef until the outside is no longer pink, then add your Taco Seasoning packet contents. Cover and allow to cook slowly until done. Set the meat aside to cool for about 10 minutes. 
Mix all your veggies in a large bowl and slowly incorporate the French Dressing and Cheese until thoroughly combined. From there, add your Ground Beef by gently folding it into the veggie mixture with a large spoon. After combining, cool in your fridge for 10 minutes. Once chilled, scoop taco salad onto a bed of crunched up tortilla chips and garnish with a dollop of Sour Cream and Cilantro. 
Red Leaf Mandarin Salad
Great as a summer side salad or light lunch!
Ingredients:
8C shredded Red Leaf Lettuce

2C chopped Spinach

1 can (15 ounces) drained Mandarin Oranges 

1/4C chopped sweet Yellow Pepper

1/4C chopped sweet Red Pepper

2 Tbsp. finely chopped Red Onion

1/3C sliced, toasted Almonds

1/2C crumbled Feta Cheese

5 Tbsp. Olive Oil

2 Tbsp. Honey

4-1/2 tsp Apple Cider Vinegar

2 tsp Dijon Mustard

1/8 tsp Salt
Directions:
In a large bowl, combine Lettuce, Oranges, Feta Cheese, and Peppers. In a small bowl, whisk the Olive Oil, Honey, Apple Cider Vinegar, Dijon Mustard, and Salt. Stir in Onion. When ready to serve the salad, pour the dressing over the salad and toss it to coat. Finally, sprinkle with almonds or any of your favorite toppings!
Garnish your salad with a handful of Viola's for a decorative touch!
Is that enough to convince you that National Salad Month is your favorite month? Probably not! But we hope you are excited to eat and grow your own fresh veggies and fruits now! 

You can view our Salad Kits here or all of our Garden Kits here.