5 Recipes with Parsley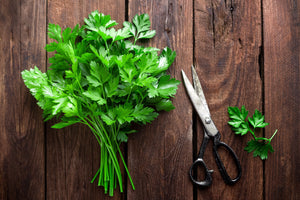 Parsley is known for it's refreshing and taste bud tantalizing flavor. It's in the same family as dill and is recognizable for it's bright green and bushy leaves. Parsley is used in a variety of dishes from all around the world including Southern Italy, Greece, Portugal, Spain and Morocco. It is used as a spice, garnish and as an essential ingredient in cuisine. There are simple parsley recipes you can make using this homegrown herb.
Tabbouleh Salad
1 cup chopped fresh parsley, 1 cup bulgur (cracked wheat), 3 seeded and chopped tomatoes, 2 peeled and chopped cucumbers, 3 chopped green onions, 3 minced cloves of garlic, ⅓ cup fresh mint leaves, 2 tsps salt, 1/2 cup lemon juice and 2/3 cup olive oil. Place bulgur in a bowl and cover with 2 cups of boiling water for 30 minutes. Drain and squeeze out any excess water. In another bowl, combine the wheat and all other ingredients. Mix and toss thoroughly. Refrigerate for 4 hours or longer before serving. Refreshing salad for before dinner or as a side dish. Use with fish, steak or chicken to complement your meal.
Potatoes
1 cup chopped fresh parsley, 1 1/2 pounds new red potatoes, 1 tbsp vegetable oil, 1 chopped onion 1 crushed clove of garlic, 1 cup chicken broth and 1/2 tsp ground black pepper. Peel a strip of skin from around the center of each potato, place the potatoes in cold water. Heat oil in a large skillet. Saute onion and garlic until tender. Pour in chicken broth and 3/4 cup of the parsley. Mix together and bring to a boil. Place the potatoes into a large pot full of salted water. Bring the water to a boil then simmer and cover until tender. About 10 minutes should do the trick, test with a fork. If the fork can easily pierce the potatoes, they are ready. Remove potatoes and place in a bowl. Sprinkle the black pepper into the skillet and stir the sauce. Pour the peppered sauce from the skillet over potatoes and sprinkle with the remaining parsley. Makes a delicious side dish for dinner. Use in combination with steak or chicken.
Mushroom Soup
1/4 cup chopped fresh parsley, 4 tbsps unsalted butter, 2 cups chopped onions, 1 pound sliced fresh mushrooms, 2 tsps dried dill weed, 1 tbsp paprika, 1 tbsp soy sauce, 2 cups chicken broth, 1 cup milk, 3 tbsps all-purpose flour, 1 tsp salt, 2 tsps lemon juice, 1/2 cup sour cream and ground black pepper to taste. Melt the butter in a large pot. Saute the onions in the butter for 5 minutes. Add the mushrooms and saute for another 5 minutes. Stir in the dill, paprika, soy sauce and broth. Cover and simmer for 15 minutes. In a different bowl, whisk the milk and flour together. Pour this into the soup and mix well to blend all ingredients. Cover and simmer for another 15 minutes, stirring occasionally. Last but not least, stir in the remaining ingredients. Stir together and allow to heat on low for about 3 to 5 minutes. No boiling! Serve as a before dinner appetizer, a healthy lunch or as a light meal for dinner.
Carrots
Chopped fresh parsley for garnish, 2 pounds peeled and diagonally sliced carrots, peeled and diagonally sliced, 3 tbsps of melted butter, 1/3 cup apricot preserves, 1/4 tsp ground nutmeg, 1/4 tsp salt, 1 tsp orange zest and 2 tsps fresh lemon juice. Add carrots to a pot of lightly salted water, and boil. Reduce heat and simmer until tender. Test with a fork. Drain carrots. Add melted butter to a bowl and stir in apricot preserves. Add remaining ingredients. Stir well. Add carrots to your mixture. Gently stir, covering carrots. Sprinkle with your chopped parsley. This makes a perfect side dish for dinner. Complements fish but can be used for any meat or vegetarian meal.
Pork Tenderloin
1/2 cup chopped fresh parsley, 2 (12 ounce) pork tenderloins, 1/2 cup bread crumbs, 1/3 cup grated Parmesan cheese, 1/2 tsp dried thyme, 1/2 tsp salt, 1/4 tsp freshly ground black pepper, 1/4 cup Dijon mustard and 2 minced cloves of garlic. Preheat the oven to 375 degrees Fahrenheit. Spray a baking dish with cooking spray and arrange pork tenderloins in the dish. In a separate bowl, combine bread crumbs, fresh parsley, Parmesan cheese, thyme, salt, and black pepper. Mix together. In a different bowl, stir mustard and garlic together. Spread mustard mixture over the pork. Next, sprinkle the bread crumb mixture over the mustard coating. Be sure to thoroughly coat your pork tenderloin. Bake pork for about 20 minutes. An instant-read thermometer inserted into the center should read 160 degrees Fahrenheit. You don't want pink in the center! Perfect main dish for a scrumptious dinner. Use leftovers for yummy pork tenderloin sandwiches.
From garnish and appetizers to side dishes and main meals, the uses of fresh parsley are endless! It is wise to keep fresh parsley handy. What better way than to grow your own in an indoor garden herb kit or in a home garden? More convenient than running to the grocery store and it is cost-effective too.  Fresh parsley will give your dish the fresh kick it needs to make it a family favorite!
Shop Garden Republic Herb Kit