5 Recipes with Thyme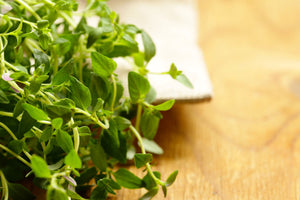 Tick, Tock, Tick, Tock is that the sound of the clock? You're probably paying attention to the time because you're eager to taste your homemade meal using the ingredient thyme! Thyme is a very recognizable herb. It has a distinctly pungent and peppery taste. Thyme is used in dishes from all around the world including french and mediterranean cuisine. It's robust flavor goes a long way requiring only a little in several dishes. However, the fresher the thyme, the better the thyme.
Roasted Chicken
1 tbsp minced fresh thyme or 1 teaspoon dried thyme, 1 tsp sea salt, 1/4 tsp garlic powder, 1/4 tsp coarsely ground pepper, 1 roasting chicken, 1 medium halved lemon, 1/4 large sweet onion,1/4 cup fresh thyme sprigs, 6 peeled garlic cloves and lemon wedges.
Preheat your oven to 350 degrees fahrenheit. Combine and mix minced thyme, salt, garlic powder and pepper in a bowl. Place chicken in a shallow roasting pan, breast side up. Tuck wings under chicken; tie drumsticks together. Squeeze juice from lemon halves over chicken. Sprinkle with thyme mixture. Loosely stuff chicken with squeezed lemon halves, onion, thyme sprigs and garlic. Roast about 1.5 to 2 hours. Remove chicken from oven. Let it cool for about 15 minutes before serving. A flavorful meal for dinnertime or use to make chicken sandwiches for lunch the following day.
Mashed Potatoes
About 12 medium, quartered red potatoes, 6 peeled and thinly sliced garlic cloves, 1/2 cup fat-free milk, 1/2 cup reduced-fat sour cream. 2 tbsps melted butter, 2 tbsps minced fresh parsley, 2 tbsps minced fresh thyme, 2 to 3 tsps minced fresh rosemary and 1 tsp salt.
Place potatoes and garlic in a cooking pot; add water to cover. Bring to a boil. Reduce to low heat. Cook your potatoes uncovered for 15-20 minutes or until potatoes are tender. Test using a fork. If the fork can pierce through them easily, they are ready. Drain your potatoes and return to pot. Mash potatoes. Slowly add remaining ingredients. Makes a scrumptious side dish paired with meat such as a cooked ham, roasted chicken or pan-fried steak.
Zucchini
1 tbsp olive oil, 1 pound medium zucchini, quartered lengthwise and halved, 1/4 cup finely chopped onion, ½ crushed vegetable bouillon cube, 2 tbsps minced fresh parsley, 1 tsp minced fresh thyme or 1/4 tsp dried thyme.
Add zucchini, onion and bouillon to a large skillet. Cook on medium high heat. Stir 4-5 minutes or until zucchini is crisp-tender. Sprinkle with remaining herbs. This zucchini can be used as a side dish, added to pasta or served as a vegetarian entree.
Green Tea
2 quarts water, 8 individual green tea bags, 8 fresh thyme sprigs, 1/2 teaspoon grated lemon peel, 1/4 cup honey, 3 tablespoons lemon juice and sugar.
In a large pot, bring water to a boil. Remove from heat. Add tea bags, thyme sprigs and grated lemon peel. Steep, covered for 3 minutes. Discard tea bags. Steep, covered for another 3 minutes. Strain tea. Add honey, lemon juice and desired amount of sugar. Serve immediately as a warm and caffeinated beverage in the morning and afternoon or place in the refrigerator overnight for a refreshing and cool glass of iced green tea the next day.
Pork Loin
1 tbsp all-purpose flour, 2 tsps dried basil, 2 tsps dried thyme, 2 tsps ground cinnamon, 1.5 tsps salt, 1/2 tsp pepper, 1 boneless pork loin roast, 2 tbsps canola oil, 1 fresh sprig of rosemary, 1 medium apple, 1 medium lemon, medium onion (apple, lemon and onion are all cut into wedges).
Preheat oven to 325 degrees fahrenheit. In a small bowl, combine and mix flour, basil, thyme, cinnamon, salt and pepper. Rub the thyme mixture over pork. Brown roast on all sides by placing in a large oiled skillet over medium-high heat. Once browned, place roast in a shallow roasting pan, fat side up. Arrange apple and onion around the roast. Squeeze one wedge of lemon over the pork, place the rest of the wedges in the pan. Place your rosemary sprig on top of the pork. Roast 1.5 hours. Remove and allow it cool down for 15 minutes before slicing. Pork loin makes an exceptional meal for dinner especially served with fresh apple slices or the mashed potato and zucchini recipes mentioned above!
When using thyme, it's best to have it fresh! Try growing it outdoors or in an indoor herb garden to keep it around. If a recipe calls for dried thyme, it takes only a few short minutes for this herb to dry when baked in the oven. Either way having fresh thyme is always the best option.
Shop Garden Republic Herb Kit