Decorating with Homegrown Plants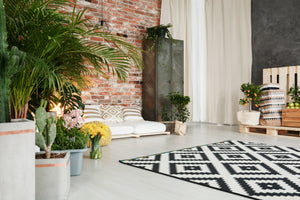 Decorating your home with plants brings a natural touch and provides splashes of color throughout your interior design. With so many plants to choose from, there is something out there for everyone. You could always go to a plant and flower nursery to choose the plant that fits your preference. However, many want to bring the joy of growing a plant from seed to full bloom. When starting your homegrown plant journey, there are stages of the plant's life that may not be so attractive. There are ways to decorate with homegrown plants that will keep your living space looking spiffy regardless of the stages of your plants life. 
Placement 
Placement is a huge part of growing a plant at home. Most indoor plants need indirect sunlight to thrive and prosper. This means you may need to keep your plants near windows or doorways where sunlight frequents the area. In the early stages of a plants life, this is especially true. Other plants can go without sunlight for several days and sometimes weeks to sustain their beauty. Be sure to clear a space in the area where your homegrown plant can get plenty of sunlight. You can work the plant into the interior design but we will get to that! 
Containers 
Choosing the right pottery or grow bags for your homegrown plants is essential. Instead of simple plastic pots or a plastic grow bags, opt for more attractive containers. Be sure the containers are both visually pleasing and functional for the plant you are growing. Painted ceramic pots, terracotta pots, salt glazed pots, jute burlap grow bags, transparent glass pots, stone pots or even metal pots. It is best to make sure all of these containers fit into your design theme and they have the proper drainage holes or the breath-ability necessary for allowing your homegrown plants to flourish. 
Adding Decoration to Containers
When your plant is first starting out, you may just be staring at a pot of dirt. This can be pretty difficult to fit into your dream interior design theme. Jazz up the dirt by adding a gemstone, a mineral slab or a myriad of colorful rocks around the perimeter of the pot. This will add a bit more aesthetic to design before and after your plant has grown. Just be sure this added accent doesn't inhibit the sprouting of your new plant. 
Fully Grown 
Once your plant has fully grown, you can find it a permanent place to reside. Depending on the design theme you are aiming for, you can create very attractive plantscapes in your home using a variety of materials. For a rustic look, try a few vintage wooden crates of varying sizes. Place your plants on the tops to add scale and dimension. For an ultra contemporary look, glazed pots in sharp colors like bright red, lemon yellow, pitch black or ivory white add an eye-catching simplicity to the style. There are many ways you can incorporate plants into your interior design.
Plants to Harvest 
You may have homegrown herbs you like to double as houseplants. These always look attractive on kitchen windowsills. Homegrown succulents, cacti and even bonsai trees are visual pleasing in nearly any design setting. Best to not harvest all at once, this will keep the plant looking vibrant and full of life even after you pluck a little from the top. 
Decorating with plants is a very wise way to bring the beauty of nature indoors. It is even better when they can be used for both interior design and for culinary or medicinal purposes! Don't be afraid to explore the magical world of plants as perfect natural accents for your home.  
Featured Products: