How to Successfully Water a Bonsai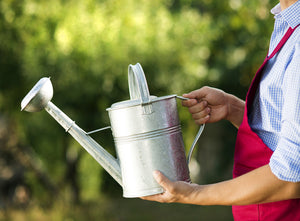 Watering your Bonsai tree isn't a complicated process. In fact, it's probably the easiest task after sowing seeds, training branches, and pruning shoots. However, there are a few key guidelines you should stick to if you want your tree to remain healthy.
Don't Over Water
Many gardening enthusiasts make the mistake of watering their plants until the soil is thoroughly soaked. This can cause root rot, mold growth, and loss of dirt if you don't have soil that drains well. Look at the top portion of your soil, does it appear to be dry and flaky? If you stick finger into the dirt a few centimeters, is there any moisture? If there isn't, go ahead and water just enough for the topsoil to dampen.
Avoid Scheduled Watering
You probably don't drink water at the exact same time every single day, instead you wait until your thirsty. Drinking too much water can actually hurt our bodies, and the same goes for your Bonsai tree. It only soaks up as much as it needs, and this could vary depending on the level of sunlight it's receiving, and what the weather feels like inside or outside of your home. Watering every day could drown your plant, and not watering enough will surely cause its roots to starve and shrivel up.
Make Sure Your Soil is Right for a Bonsai
Anyone who enjoys gardening knows that the right kind of dirt is pertinent to the survival of any plant. Use a mixture of akadama, pumice, and lava rock for a well balanced fertilizer and a soil that keeps your roots healthy and growing. You can mix it altogether, or you can layer it around the tree for a more attractive aesthetic appearance. There should be just enough to keep your tree in place and allow water to flow through, creating air bubbles. If too much water is pouring through, you may need to lessen the ratio of gravel and hard material, and more of the softer soil mediums.
Shower, Don't Hose
Since Bonsai trees are small, you don't want to take a regular garden hose and soak them. Use a watering canteen or something that provides a light "shower" of water droplets so that your entire root system receives adequate moisture. If too much water is pouring through the bottom of your pot, your Bonsai may need to be repotted or it could be that you need to change your soil!
Featured Products