5 Recipes with Basil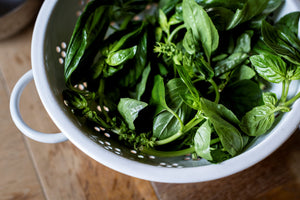 Basil, also known as Saint Joseph's Wort, is one of the most recognizable plants when it comes to taste and smell. It is no surprise it is a member of the mint family due to its zestful and refreshing taste. Fresh basil is commonly used in many Italian dishes, pestos and sauces but basil is also used to spice up cuisine from all around the world including Thailand, Indonesia and Vietnam. There are many dishes with fresh basil as an essential ingredient in their recipes. Below are simple recipes to get you cooking with your fresh basil.
5 Recipes with Basil:
Caprese Salad
1 log of fresh mozzarella, 1 - 2 large tomatoes, 1 cup freshly picked basil leaves, 3 tbsps of balsamic vinaigrette dressing. Cut fresh mozzarella into thick slices, cut equally proportionate slices of tomatoes and pluck fresh large basil leaves. Place one piece of mozzarella on a plate. Stack with one tomato slice and one large basil leaf resting on top. Create as many as you can fit on a plate. Sprinkle the entire arrangement with balsamic dressing. Use as a side dish or as a gourmet appetizer.
Pesto
1 cup fresh basil, 1 cup fresh parsley leaves, 2 garlic cloves, 1/2 cup olive oil, 1/2 cup grated parmesan cheese, 1/4 tsp salt. Puree all of your ingredients in a food processor or blender. Toss a few tbsps of basil pesto with hot cooked pasta, add to a grilled cheese sandwich or throw on top of a skirt steak for some extra zest.
Butter
1/2 cup softened butter, 4 tsps minced fresh basil, 1 and 1/2 tsps minced fresh parsley, 1/2 tsp garlic powder, fresh sage and thyme. Thoroughly mix all ingredients in a bowl until blended. Garnish with a little sage and thyme. Spread this butter over bread or on top of cooked fish like grilled or baked salmon.
Pasta Sauce
1 tbsp butter, 8 small diced tomatoes,1/4 cup chopped fresh basil, 1 tsp olive oil, 1 tsp garlic salt, salt and ground black pepper to taste, 1 tsp all-purpose flour, 1/4 cup water, 1 grated clove of garlic. Melt the butter in a skillet and cook the tomatoes in the butter until they begin to fall apart. Add all the other ingredients except for the garlic and the water. Mix the ingredients for about 5 minutes then stir in the water until the lumps of flour disappear. Once the lumps are gone, add the garlic and simmer the sauce for about 5 minutes. Use this sauce for pasta, chicken, vegetables or as a marinade.
Fruit Salad
6 cups cubed cantaloupe, 6 cups cubed honeydew melon, 1/4 cup honey, 3 tbsps lemon juice, 1/2 tsp paprika, 1/4 tsp salt, 1/4 tsp coarsely ground pepper, 1/4 cup minced fresh basil. Combine cantaloupe and honeydew, cover and refrigerate. Keep your fruit nice and cool until your ready to serve. In a separate bowl, whisk together basil, honey, lemon juice, paprika, salt and pepper. Pour over and toss with melons just before serving. Use as a breakfast dish, healthy dessert or side dish to any meal.
Basil is an important ingredient to make delectable recipes truly stand-out! It's best to have fresh basil handy especially when so many recurring recipes call for this zesty herb. Having basil as an indoor house plant or growing in a garden are two ways to ensure you always have this herb around!
Shop Garden Republic Herb Kit