5 Recipes with Cilantro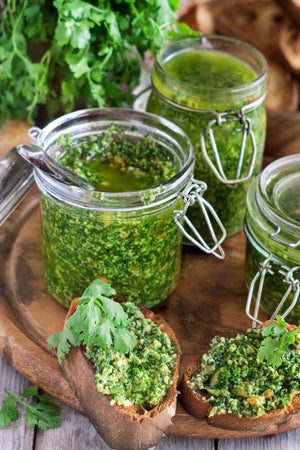 There's nothing like adding fresh herbs to your meal. Mixing them in, sprinkling them on top, blending them through. Cilantro is an herb that adds a whole lot of flavor. It comes from the coriander seed but is different from the spice coriander. Fresh cilantro has a pungent and citrusy flavor while coriander has a nutty and richer taste to it.
Cilantro has such a distinct taste it is rarely substituted for other herbs. In fact, it is a prime ingredient in a variety of dishes from all around the world including South America, Western Europe, Middle East and India. Give this herb a true test by trying these simple cilantro recipes at home.
Recipes for Cilantro:
Cilantro Guacamole
Use with tortillas, tacos or quesadillas. 3 ripe mashed avocados, ¾ cup chopped fresh cilantro, ½ of a heirloom tomato; chopped, ½ of a medium red onion; chopped, 1 chopped jalapeno, ends and seeds removed, freshly squeezed lime juice of one lime, 1 tsp each of garlic powder, cumin, smoked paprika. Mash and mix all the ingredients together.
Cilantro Smoothie
Use as a nutritional morning drink or as a midday snack. ½ cup chopped cilantro, 1 cup chopped cucumber, freshly squeezed lime juice of one lime,  2 tsps grated ginger, 4 dried figs, 4 ounces plain or coconut yogurt. Blend in a blender or food processor until smooth.
Cilantro Chimichurri
Use for poultry, steak or seafood. Place 2 cups fresh parsley leaves, 1 and 1/2 cups fresh cilantro leaves,1/2 medium red onion, coarsely chopped, 1 to 2 chipotle peppers in adobo sauce and 5 sliced garlic cloves, in a food processor until finely chopped. Add 1/2 cup olive oil, 1/4 cup white wine vinegar, 1 tsp grated lime zest, ½ tsp salt, ¼ tsp pepper, 1/4 cup lime juice and 3 tsps dried oregano. Blend all of the ingredients together. Spread chimichurri over any dish or use as a dipping sauce.
Cilantro Salad Dressing
Use on your favorite salad, pour over potatoes or use as a dipping sauce. 1/4 cup buttermilk, 1/4 cup mayonnaise (regular or fat-free), 3 to 6 drops hot pepper sauce, 1/4 tsp salt, 1/4 tsp garlic powder, 1/8 tsp sugar, 1/2 cup fresh cilantro leaves. Add all ingredients together and blend until smooth and creamy.
Cilantro Coleslaw
Use as the perfect side dish to practically any meal, especially sandwiches and soups. You can also add it to fish tacos. 8 cups shredded cabbage, 1 small thinly sliced red onion, 1/3 cup minced fresh cilantro, 1 seeded and minced jalapeno pepper, 1/4 cup crumbled blue cheese, 1/4 cup mayonnaise, 1/4 cup sour cream, 2 tbsps rice vinegar, 2 tbsps lime juice, 1 minced garlic clove, 1 tsp sugar, 1 tsp grated lime zest, 3/4 tsp salt, 1/2 tsp coarsely ground pepper. Mix and toss the ingredients together.
Having cilantro handy will make it easy to create these dishes at anytime. The best way to do this is by growing your own. A good place to start is an indoor herb garden or growing in your backyard if you have the space. These simple and versatile recipes are to encourage making the most of your cilantro! Happy cooking!
Shop Garden Republic Herb Kit