Best Herbs To Grow for Cocktails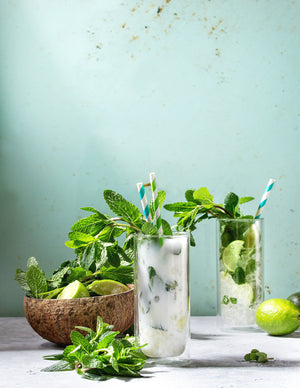 Gin Basil Smash
You'll need a cocktail shaker for the gin and basil smash. Rather than blending you'll be smashing up lemon and basil and placing them into the shaker. Once everything is completely muddled, strain the concoction twice into a glass or pitcher. Use with vodka or another light liquor over ice, and add a sprig of basil for presentation.
It's a simple cocktail mixture, but it has a fresh flavor that is perfect for the summertime.

Parsley, the Green Lantern
This green parsley drink will make you pucker! Combine a teaspoon of zest of lime, 1 cup of parsley, half a cup of lime juice, and half a cup of sugar and place them into a blender. Once blended, get a glass and fill it up with ice, then pour club soda over the drink. Then, add the rest of the ingredients to your drink, and adjust to your liking.


Cilantro Goes Great with a Michelada
For those who enjoy a drink with a kick, you've got to try a spicy, flavorful cocktail originating from Mexico, the michelada. Pick out your favorite imported beer, the best choices for a michelada would be a Corona or a Dos Equis.
A traditional michelada contains Clamato juice, however if you're allergic to fish or just don't like clams you can forgo adding this to your drink.  Roll the rim of your drinking glass over salt and add two to four drops of hot sauce to the inside, preferably Cholula or Louisiana. Then, add two drops of soy sauce; pour ice over the top of this mixture.
After you've done this take a small bundle of cilantro and place it into the glass. Pour your beer over the ice and use a utensil to mix your drink.
Voila! Enjoy your michelada!



Thyme
Fruity drink lovers will love the taste of the Country Thyme cocktail. Made with a delicious mixture of blueberries, agave nectar, Lemon, and vodka, this drink goes with any occasion at any time of year.
Use a cocktail shaker to muddle the lemon and blueberries and set them aside, additionally you'll need to squeeze or rub the thyme in order to release the oils inside of the pines. Add the pressed thyme to your shaker ingredients along with the agave nectar, vodka and ice. Pour the concoction over a glass of ice and place a sprig of thyme on the side of the glass as garnish. Remember to strain the mix before pouring it into your glass; you don't want thyme and bits of blueberries to wind up in your teeth!
Of course, you don't have to run to the store each time you want to make one of these drinks. The best way to really impress your guests, save yourself a trip to the store, and get the freshest organic, non-gmo herbs possible with the most flavor is to grow them yourself! It's really easy to do with Garden Republic's new Herb Garden Grow Kit for growing culinary & cocktail herbs in your kitchen, windowsill, balcony or countertop. It comes with everything you need, all in one beautiful kit in a real wooden gift box that also can be used as a planter box. Check it out with the link below!
Shop Garden Republic Herb Kit