Holiday Recipes Using Your Herb Kit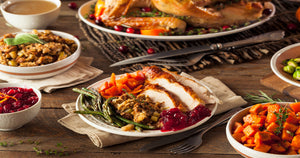 If you have a full pot of herbs and lots of guests to feed for the holidays, but you aren't sure what to cook, no problem! You don't need to be a first class chef to produce a good meal for your loved ones. Try some of the recipes listed below; they're easy to make and will surely satisfy everyone.


Basil Hummus Stuffed Mushrooms
Use it as a yummy side or a finger food to pass around the room, either way you and your guests will love the robust flavor of fresh basil mixed into hummus and stuffed into a mushroom.
Ingredients Include:
9 button stuffing mushrooms

1/4th a cup of walnuts

A cup of basil

A cup of spinach

2 cloves of garlic

2 teaspoons of lemon juice

1/4th a teaspoon of salt for taste

1/4th a cup of your favorite brand of roasted garlic Hummus
First, you'll need to preheat your oven to 350 degrees Fahrenheit and begin prepping as it warms up. Align your walnuts on a baking sheet and allow them to toast for about 10 to 12 minutes in your oven. While they're heating rinse your mushrooms of any dirt or debris, then take the stems out. If you have a food processor, remove the walnuts and pulse into smaller pieces; you can also choose to simply crush them up if you'd like.
Once you remove your walnuts from your baking tray, line your mushrooms facing upward and toast them for about 15 minutes.Throw your basil, spinach, and garlic into the processor or finely chop the ingredients up and mix them in with your walnuts. Add this mixture to your hummus along with the salt and lemon juice, then take a spoon and place your home-made hummus into the mushrooms one by one.
Allow them to heat for another 10 minutes, then serve up your mushrooms!
Thyme Roasted Sweet Potatoes
Every good holiday meal needs a sweet side to go with the savory items, and what better option than sweet potato? It's also a great choice for those who struggle with cooking, no one can mess up this recipe!
Ingredients Include:
4 sweet potatoes

1/3rd a cup of fresh thyme

3 tablespoons of olive oil

5 to 6 cloves of garlic (4 if they're larger)

½ a teaspoon of salt

½ a teaspoon red pepper flakes
Preheat your oven to 450 degrees Fahrenheit and start peeling your sweet potatoes. Cut them in half, then into smaller squares; mince your garlic at this time, or you can use a pre-minced option. Places the squares into a large bowl along with your garlic, and all of your seasoning. Mix well, then add a light coating to your baking sheet, spread the potatoes evenly over the sheet and cook for 40 minutes.
Caribbean Holiday Shrimp
For a more unique flavor, try shrimp this season! You can eat it as your main dish or use it as a side
Ingredients Include:
1 tablespoon of vegetable oil

2 tablespoons of ginger root

2 limes

1 tablespoon of soy sauce

½ a teaspoon of cane sugar

½ teaspoon of red pepper flakes

2 pounds of shrimp with tails

½ a cup of

chopped cilantro
Place all your spices into a bowl and mix well, allow them to sit. If your shrimp have not been peeled already, go ahead and remove the shell but leave the tails attached. Stir your shrimp into the mixture and allow them to marinade for 3 to 4 hours, then use butter to saute them. You can also purchase pre-cooked shrimp if you're in a hurry to get them finished!
Shop Garden Republic Herb Kit